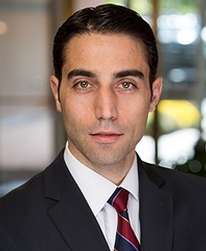 PRACTICES
Litigation
Banking and Financial Services
Broker-Dealer Litigation and Arbitration
EDUCATION
Rutgers University School of Law, J.D. (2005)
Tulane University, B.S. (2002)
ADMISSIONS
New York
New Jersey
District of Columbia
U.S. District Court, District of New Jersey
U.S. District Court, Southern District of New York
U.S. District Court, Eastern District of New York
Jordan D. Weinreich
Partner
CONTACT INFORMATION

V-Card
Sherman Atlas Secures Another NJ Supreme Court Victory For Firm Client

07/2020

For the second time this Term, Sherman Atlas has secured a victory for one of its clients in a case before the New Jersey Supreme Court. Julian W. Wells and Jordan D. Weinreich represented firm client Bank Leumi USA on an issue of first impression regarding the scope of the entire controversy doctrine. In a unanimous decision, the New Jersey Supreme Court held that the entire controversy doctrine does not bar a party who files a successful motion to dismiss for failure to state a claim from later asserting claims that arise from the same transactional facts.



New Jersey Lawyer Article: Registered Investment Advisors

12/2015

Registered investment advisors (RIAs) are a growing sector of the wealth management industry. Over 2,000 new RIA firms were created last year alone. There are now more than 30,000 RIAs in the United States, and over 3,000 of them have in excess of $1 billion in assets under management. This tremendous growth reflects the fact that an increasing number of investors are choosing RIA firms instead of traditional Broker-dealers for their investment and wealth management needs.

This article was originally published in the December 2015 issue of New Jersey Lawyer, a publication of the New Jersey State Bar Association, and is reprinted here with permission.

Sherman Atlas Article Published in The M&A Journal

11/2015

Shareholders who claim that they have been unfairly compensated as a result of a merger transaction often have only one available remedy: to dissent from the merger transaction and file a lawsuit seeking a "fair value" determination of their shares. Over the past several years, the number of such dissenting shareholder actions has surged. Julian Wells and Jordan Weinreich of Sherman Atlas Sylvester & Stamelman LLP break down the process and provide a primer on what you need to know.