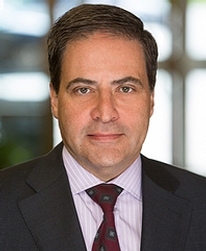 PRACTICES
Art, Media and Entertainment Law
Banking and Financial Services
Litigation
EDUCATION
New York University School of Law, J.D. (1983)
Fordham University, B.A., summa cum laude (1980)
ADMISSIONS
New Jersey
New York
U.S. District Court, District of New Jersey
United States Supreme Court
United States Court of Appeals for the Third Circuit
United States Court of Appeals for the Second Circuit
Anthony J. Sylvester
Partner
CONTACT INFORMATION

V-Card
Anthony Sylvester is a founding partner of Sherman Atlas Sylvester & Stamelman LLP.
He has practiced law in New Jersey and New York as a commercial litigator for 30 years. Prior to opening the doors at Sherman Atlas, Anthony had been a partner and member of the executive committee at Riker Danzig.
Anthony has substantial experience representing financial institutions in complicated, high-stakes litigation. In particular, he has handled numerous loan recovery and workouts and litigated numerous commercial foreclosure proceedings in New Jersey and New York, a number of which concluded with sheriff's sales. Anthony also has significant experience in defending banks, financial institutions and mortgage servicers against consumer finance based claims brought under Articles 3 and 4 of the Uniform Commercial Code, the Fair Credit Reporting Act, The Truth in Lending Act, RESPA, HOEPA, and state consumer fraud statutes. He has defended consumer finance class actions in both State and Federal Court.
Among Anthony's financial institutional clients are JPMorgan Chase, The Provident Bank, New York Community Bank, Affinity Federal Credit Union, NVE Bank, Investors Bank, TD Bank, ConnectOne Bank, Lakeland Bank, Magyar Bank, TIAA Commercial Finance, Peapack-Gladstone Bank, Ocean First Bank, Santander, Alma Bank, Blue Foundry Bank, Northfield Bank, Picatinny Federal Credit Union and Financial Resources Credit Union.
Anthony has been named among the top banking lawyers in New Jersey by Best Lawyers in America®, a peer review of US Lawyers. Best Lawyers® named him the Banking and Finance Litigation "Lawyer of the Year" for the Newark region in both 2014, 2016, 2019 and 2021. He has previously served as the New Jersey Editor of CarLaw (
www.carlaw.com
) and HouseLaw (
www.houselaw.com
), monthly reports published by the Consumer Credit Compliance Company.
Anthony also regularly represents professionals against claims of professional malpractice and breach of fiduciary duty.
In addition, Anthony has long maintained a wide-ranging state and federal court commercial litigation practice for clients in many other industries. He regularly appears in courts in various vicinages in New York and New Jersey State and Federal Courts. Anthony has represented clients defending against Directors and Officers claims, closely-held businesses in all aspects of business breakup litigation, and clients in trademark and counterfeit matters, breach of contract disputes and various business tort cases. Among the clients he has represented are Hartford Investment Financial Services, FedEx, Victoria's Secret, Progressive Insurance Company, Gold Medal Bakery, Inc., MERSEN, S.A. and The Count Basie Theater. Benchmark Litigation named him a "Local Litigation Star" in its Definitive Guide to America's Leading Litigation Firms and Attorneys. Thompson Reuters has included him on New Jersey's "Super Lawyers" list. Best Lawyers recognized him in the Commercial Litigation Category for 2015.
Anthony's practice has also included varied aspects of real estate and real property land use issues. This includes Americans with Disabilities Act (ADA) claims and issues involving bank retail branches, quiet title actions and other title disputes, property boundary disputes, purchase and sale agreement litigation and matters involving land use approvals and challenges.
Anthony also has a long-standing practice in entertainment law. For many years, he has represented Gia Prima, the widow of musician and composer Louis Prima. On Mrs. Prima's behalf, Anthony has prosecuted claims for unpaid royalties and control of her late husband's "right of publicity." (See Prima v. Darden Restaurants, cited below). In addition, of particular note, Anthony and Mrs. Prima together established "The ASCAP Foundation Louis Prima Award," presented to a talented vocalist or musician attending the New Orleans Center for the Creative Arts. He is the Managing Member of the Gia Maione Prima Foundation. (
www.giamaioneprimafoundation.com
). The Foundation makes donations that support and encourage an appreciation for American jazz, American popular music and jazz performance, as well as the fine arts. The Gia Maione Prima Foundation has partnered with The ASCAP Foundation, Tulane University, The New Orleans Jazz & Heritage Festival and Foundation, New Orleans Center for Creative Arts, Trombone Shorty Foundation, JazzKids Music Education Program in New Orleans, Louisiana Philharmonic Orchestra, Ronnie Kole's annual Jazz on the Bayou celebration, New Orleans Academy of Fine Arts, JAZZ HOUSE KiDS, St. Vincent Academy and The Count Basie Theatre in New Jersey.
Anthony has represented artists and professional athletes in matters relating to royalties and other claims, including the family of actor Sebastian Cabot; former Olympic boxer Gerald Cooney; former I.B.F. Heavyweight Boxing Champion Chris Byrd; Joel Dorn, the late Grammy-winning record producer; Guns n' Roses; and the family of late Hollywood film star Alice Faye and her husband, the entertainer Phil Harris.
Lectures and Speaking Engagements
"Ethical Considerations In Conducting Internal Investigations," CLE Presentation for the New Jersey Bankers Association, October 2019
"The Nuts and Bolts of New Jersey Federal Practice." Morris County Bar Association
"The Nuts, Bolts and Potential Pitfalls of the Music Business," presented to the Trombone Shorty Foundation Music Institute in New Orleans
"Subpoena Compliance," a CLE Program presented to Banking clients
"How to Bill Your Clients and Get Paid," The New Jersey State Bar Association's Solo and Small-Firm Conference
"Is The Hourly Fee Dead? The Latest Trends in Law Firm Pricing." New Jersey State Bar Association
"Common Privilege Issues In-House Counsel Encounter in Litigation and Commercial Practices," sponsored by the New Jersey Corporate Counsel Association
"Critical Legal Issues in Commercial Loan Workouts in the Current Economic Environment," Annual Convention, Compliance/CRA committee meeting of the New Jersey Bankers Association
"Federal and State Law Claims against Loan Servicers," The Credit Law Institute's Consumer Debt Collection, Loan Servicing and Bankruptcy Program
"Federal and State Law Causes of Action Against Mortgage Loan Servicers," Credit Law Institute's Conference
"Loan Documentation/Consideration for Addressing Loan Default," Seminar for Provident Bank
"RESPA and TILA Regulation, Enforcement and Litigation," The Credit Law Institute's Consumer Credit conference
Loan servicing issues at The Credit Law Institute's Consumer Credit Conference
Creditor and Collector Compliance Issues and Practices, Including the FDCPA, FCRA, TILA and HOEPA, Conference on Consumer Finance Law Bank Regulatory Issues, presented at the New Jersey Bankers Association Annual Convention
Federal Preemption at the Debtor-Creditor Law and Privacy Conference, Conference on Consumer Finance Law
The American Bar Association's Spring 2016 National Legal Malpractice Conference in New Orleans. The session, "Ethics Gumbo: First You Make a Roux," included ethics issues within legal malpractice cases such as conflicts of interest and client confidentiality. This interactive program highlighted the importance of addressing ethics issues in a timely and prudent fashion and how the failure to recognize these issues can lead to otherwise avoidable problems.
"Navigating Conflicts of Interest in Your Practice" Morris County Bar Association Legalpalooza 2017
Guest Instructor at Monmouth University on Negotiation
Guest Instructor at Monmouth University on a program entitled "Arts, Management and Concert Promotion" addressing music business students about the strategies and ethics of negotiation.
RECOGNITION
Best Lawyers in America®, Banking and Finance Law, Commercial Litigation and Litigation - Banking and Finance
Top 100 Lawyers in New Jersey, Super Lawyers (2017)
New Jersey's Super Lawyers (since 2005)
Benchmark Litigation's Definitive Guide to America's Leading Litigation Firms and Attorneys, Named "Local Litigation Star"
Banking and Finance Litigation "Lawyer of the Year" for the Newark region (2015, 2016, 2019, 2021)
2021 Leader in Law, NJBIZ
2023 Morris County Top Lawyer